The Tracks
The MESD architecture presents six tracks in total, three for the first year focused on scientific and transversal skills and three for the second year specialized in membrane application fields.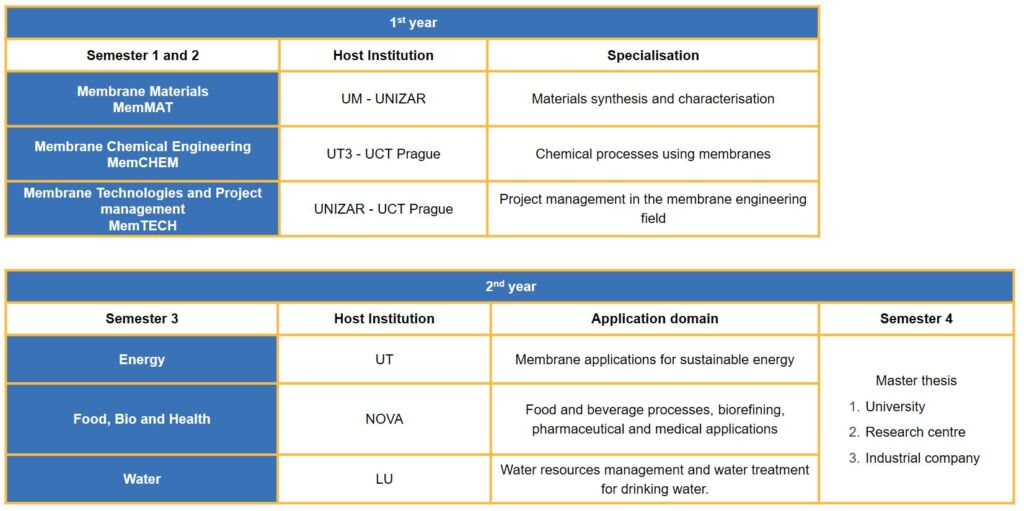 The modules of each track are listed here.
FIRST YEAR – M1
The year will begin with a summer school that will bring together the new cohort of students, the cohort at the beginning of the second year and the group at the end of the second year. It will also be the occasion for several workshops (Air quality and treatment, ground remediation, hydro ecology, water desalination, carbon dioxide removal and transversal skills related to life cycle analysis, risk management, sustainability, European water regulation and the trends concerning water treatment…), project defences, internship defences and joint courses for first-year students.
SECOND YEAR – M2
MASTER THESIS – SEMESTER 4
The semester 4, is dedicated to the master thesis and the internship and represents an experience of 24 weeks in a research academic laboratory or in a company.
The assignation mechanism for the master thesis subject is designed to evaluate both the scientific and technical qualities of the proposal to suit the activities and the needs of the host organization. It takes into consideration the thematic interests of the student as well as its possibilities for future professional integration.
The universities from Semester 3 will assess the quality of the internship proposal and will evaluate the work of the student.
The internship agreement is contracted between the student, the host organization and UM.
During the mobility and the track choice, the students will be guided by a tutor that will help them to build their professional orientation taking into account their interests.