Master Information
What is An Erasmus Mundus Joint Master ?

Erasmus Mundus Joint Masters, EMJM are high-level and integrated study programmes, at master level. They are designed and delivered by an international partnership of higher education institutions (HEI).

The EMJM aims to enhance the attractiveness and excellence of European higher education in the world and attract talent to Europe, through a combination of:

institutional academic cooperation to showcase European excellence in higher education, and
individual mobility for all students taking part in the EMJM, with EU-funded scholarships for the best students applying

By supporting these jointly recognised Master degrees, the EU aims at fostering excellence and internationalisation of the participating institutions. There are also scholarships for students to take part in these prestigious programmes; the masters themselves offer them to the best-ranked applicants worldwide.

More information :

Erasmus Mundus Joint Masters scholarships
MESD architecture – Curricula

The Master in Membrane Engineering for Sustainable Development (MESD) offers an advanced education programme related to membrane science and engineering at the interface between material science and chemical engineering. The master curricula are oriented to favor the job placement of graduates in academia or industry by focusing on key professional skills

The comprehensive curriculum takes into account the excellence areas of each partner and allows the students to acquire the basics of membrane engineering as well as to be specialized in a chosen field.

FIRST YEAR TRACKS: scientific and transversal skills

Membrane Materials
Membrane Chemical Engineering
Membrane Technologies and Project management

SECOND YEAR TRACKS: membrane application fields related to sustainable development (and environment)

Energy
Food, Bio and Health
Water

Sustainable development elements are included in each track. In all cases, the courses allow students to integrate into the local academic universe.

The modules of each track are listed here.
---
First year of the Master MESD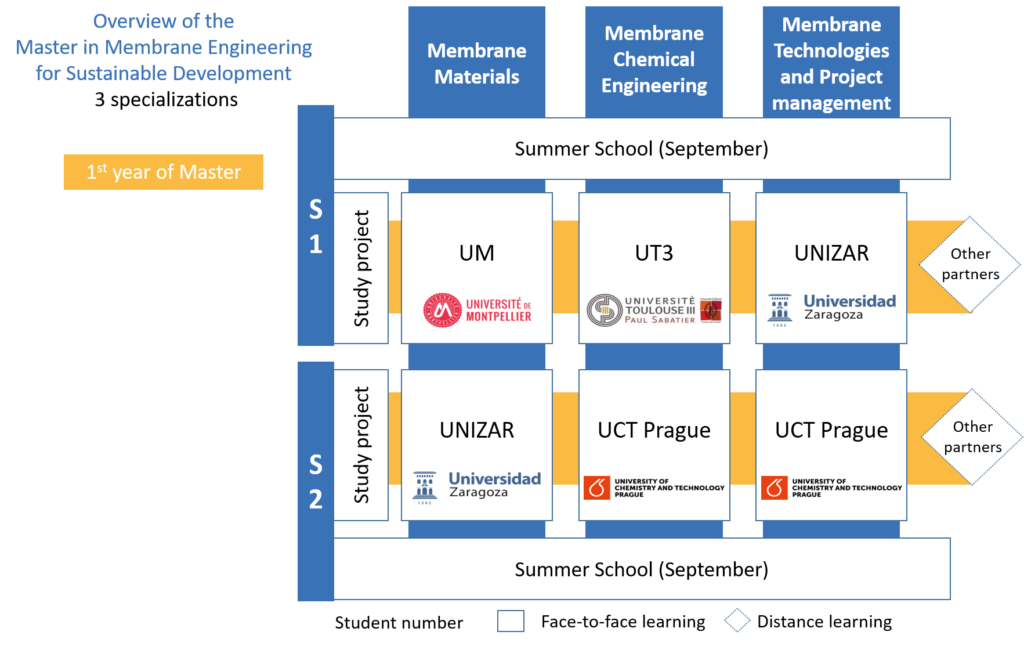 Second year of the Master MESD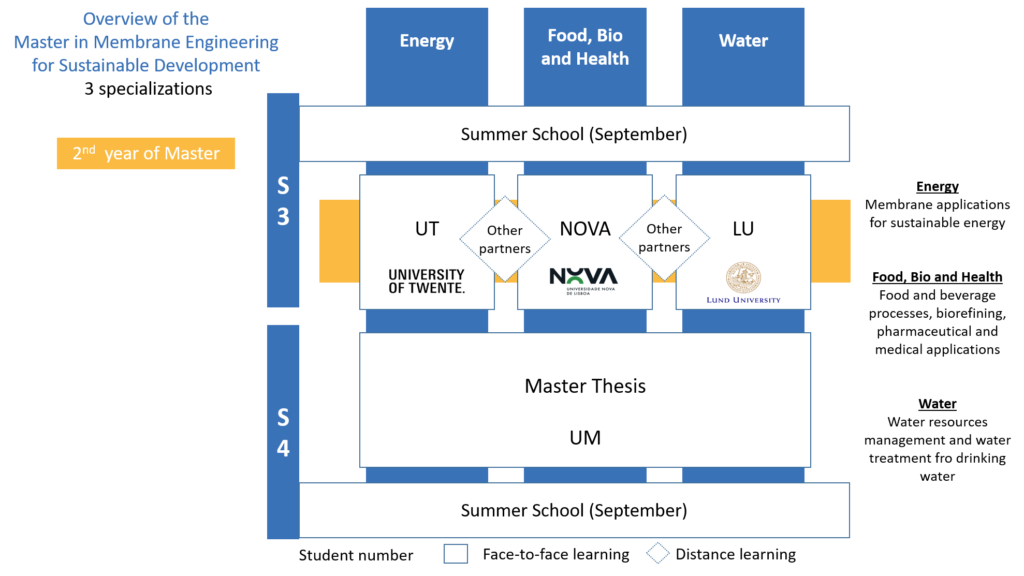 Duration of the master

The MESD has a duration of two years: 4 semesters.

Each semester includes 30 mandatory ECTS (European Credits Transfer System).

It is possible to validate additional ETCS (3 or 4) with additional teaching units.

The credits are calculated according to the student workload which takes into account lectures, practical work, seminars, internships, research, personal work, exams, training objectives and skills to be acquired. The required scientific level is equivalent in each teaching unit and track. The design of each semester has been done carefully in order to ensure the pedagogical coherence of all the possible curricula.
Teaching language

The language of instruction is English.

During the study period, candidates will have the possibility to take courses and participate in activities in the language and culture of the hosting country.
What track do I chose?

The students may choose different tracks with several university combinations according to their interests and their professional objectives. Free choice of orientation between the M1 and M2 tracks, however, there is a limited number of places available for each track.

The choice of the orientation for M1 must be communicated during the application period.

The consortium will implement atutoring process. In order to help students to make the wiser choice of tracks regarding their professional projects. This process will start as early as during the interview for admission.